Safari tent S
Our smallest model, packed with quality, flexibility, comfort and convenience.
Our smallest model fully equipped tent is the Safari tent S. The ideal solution for lack of space. This model glamping tent offers quality, flexibility, comfort and convenience. A Safari tent with a strong wooden frame, a sturdy appearance and countless options for furnishing. The S is available with and without sanitary facilities. Are you also looking for a small but fully equipped safari tent? If you are interested, please do not hesitate to contact us.
Safari tent S
The roof is equipped with PVC and the inside of fabric, by using a wooden frame and sliding doors or zippers, the construction will be extremely strong to withstand all kinds of weather influences. With this construction, a space of about 20 cm will be created between the PVC roof, frame and inner tent, through this space, the heat from the sun will not penetrate into the tent. This will keep it nice and cool during the hot days. A standard outdoor terrace of 15 m2 will certainly contribute to a real outdoor holiday.
Our production is very flexible, in addition to the standard sizes, we also offer the possibility to tailor the Safari tent entirely to your wishes. This is possible because we can build all frames modularly. Because of this flexibility you as the owner can e.g. give your own signature, so you remain uniquely distinctive. Curious, feel free to ask about all the options.
Strong frame
PVC roof 650 Gram
Inner tent fabric / fire retardant
Delivery from stock
Summer -winterproof
Storm resistant
Impregnated wood
Different colors available
Sliding door – opening door or zipper
Lockable and therefore insurable
Basic or luxury version
Available incl interior
Floor plan impressions
* The floor plans shown are a few possible versions, of course nothing has been fixed yet and you can arrange it as you wish.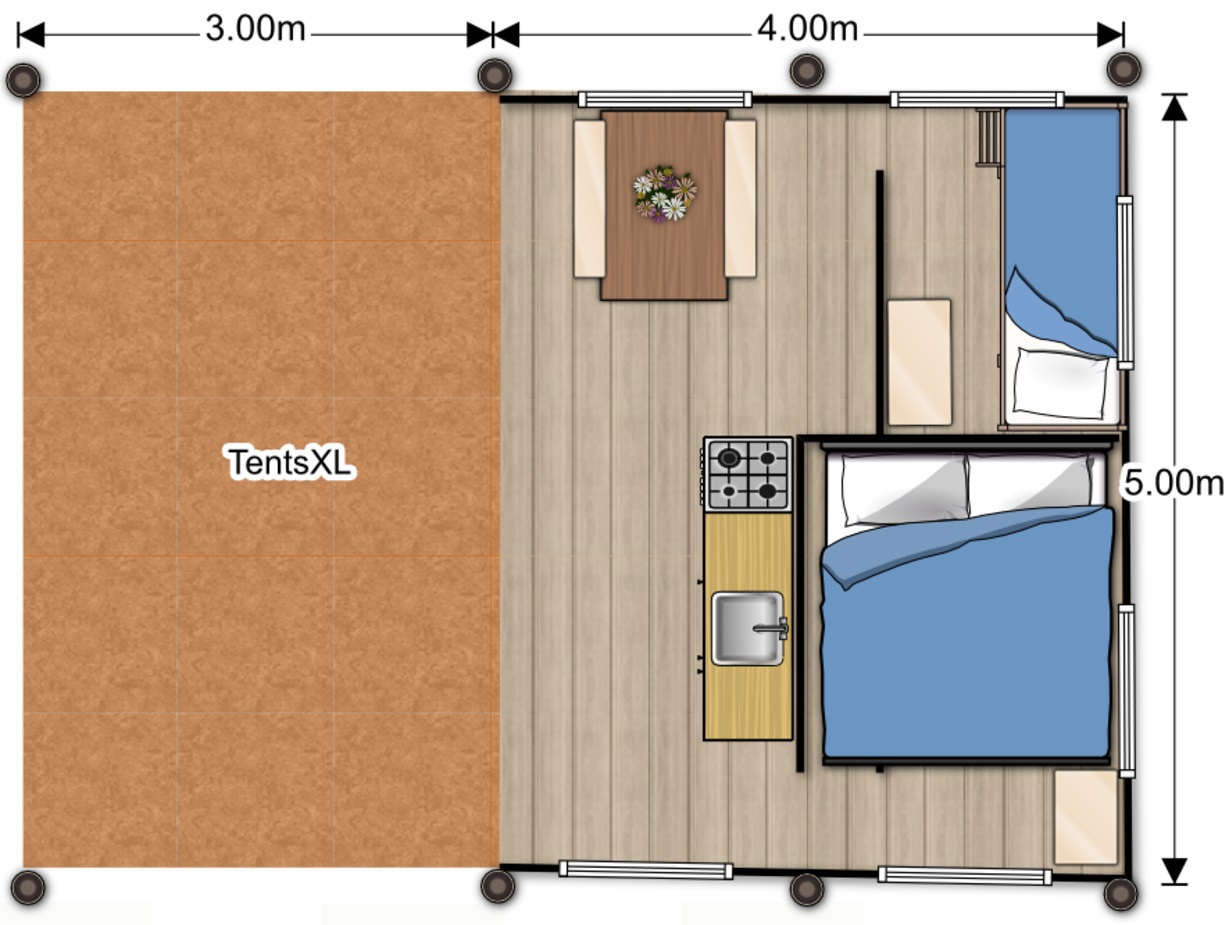 Safari tent S – 4 Pers 
With this layout you have an outside and inside part with a total surface of 35m2. The tent has 2 bedrooms with sleeping space for 4 people. In the living area you will find a kitchen and a table to enjoy your home-cooked meal.
Inner tent size 20m2
Total size 35m2
Including veranda 15m2
Suitable for 2-4 persons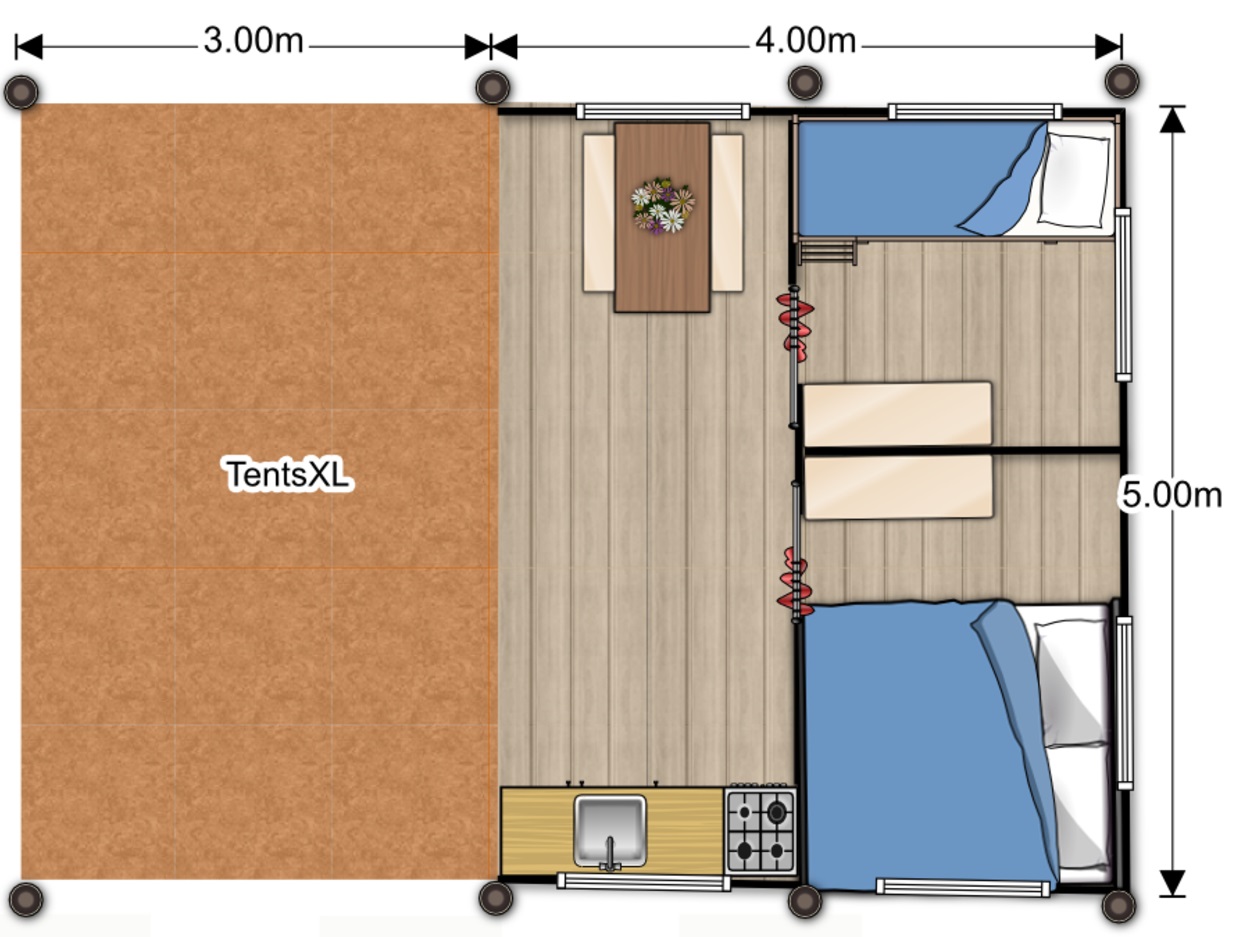 Safari tent S – 4 Pers 
In terms of dimensions, this tent is the same as the safari tent S, 4 Pers, where there is only more space for the sleeping area. By cleverly using the space, the living area also feels spacious and you enjoy the luxury that our glamping tents have to offer. Suitable for 4 persons.
Inner tent size 20m2
Total size 35m2
Including veranda 15m2
Suitable for 2-4 persons
Safari tent S – 2 Pers
This format is suitable for 2 people and is equipped with every luxury. In addition to a bedroom for 2 persons with a spacious bed, the safari tent also has a bathroom. The bathroom has a shower, sink and toilet. Your guests can relax here with a good book and a delicious glass of wine.
Inner tent size 20m2
Total size 35m2
Including veranda 15m2
Suitable for 2 persons
With luxurious bathroom
Quotation request
Are you looking for innovation for your campsite? As a supplier of glamping tents, we always look at the end user's need to produce a perfect end product during the construction of the tents. Use our quotation form to buy a tent. TentsXL is happy to help you with the development. We will contact you at all times to discuss your wishes.